2017NBA PLAYOFFS
DIRECTVcustomers can watch the 2017NBAPlayoffs on
ESPN,ABC,TNT and NBATV.The 2017NBAPlayoffs
started April 15 and runs through a potent ialGame 7 of
theNBAFinals on Sunday, June 18.With theDIRECTVApp
customers can st ream the games on the go.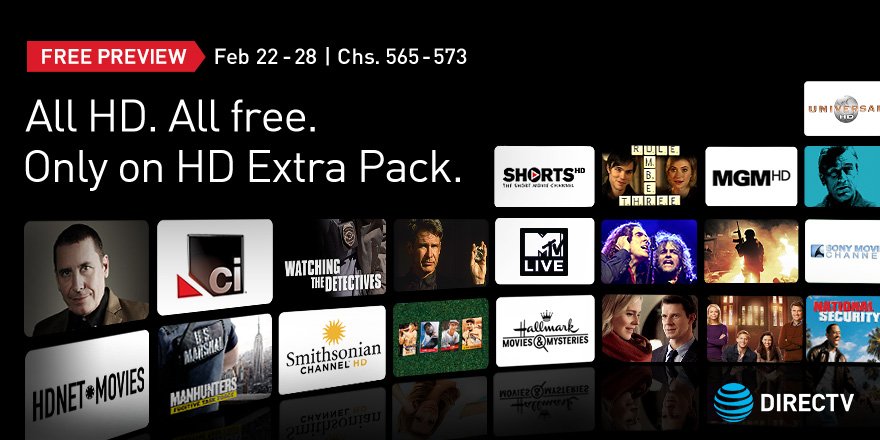 DIRECTVHDEXTRA PACK& U- ver se TVHDPREMIUMTIER
DIRECTV cust omer swill enjoy a f ree preview of t heHD
EXTRA PACK.The enhanced HDexperience includes nine (9)
popular HDchannels likeHallmarkMovies&Mysteries,
Smithsonian Channel HD,SonyMovieChannel HD,HDNET
MOVIES,MGMHDand more.U- ver se®TV cust omer swill
enjoy a f ree preview of t heHDPremium Tier .TheHD
PREMIUMTIERincludes channels like,Havoc,ShortsHD,NFL
Network,MLBSt rike zone and more.The Free Preview will
broadcast for bot h DIRECTV and U- ver se TVMay 1- 7.
Remind customers to upgrade and get DIRECTVHDEXTRA
PACKor U-verse®TVHDPremium Tier to keep watching
4KUlt ra HDon DIRECTV
DIRECTV cust omer s with CHOICEor above packages can enjoy
Major League Baseball games in 4KUlt ra HD.Orioles vsRed Sox
May 2,Ast ros vsYankeesMay 11,Red Sox vsCardinalsMay 16,and
Giants vsWhite SoxMay 22.
Customerswith ENTERTAINMENT or above can enjoy NASCAR
Monst er Energy Cup at the KansasSpeedwayMay 13.
4KUlt raHDrequires aGenieHDDVR(model HR54 or later) and aDIRECTV4KReady TV,or a 4KTVconnected to a 4KGenieMini.
Addit ional & Advanced Receiver fees apply.SELECT Package or higher,4Kaccount authorizat ion and professional installat ion required
AT&T Byron Nelson and Roland-Gar rosExper iences
DIRECTVcustomers can watch exclusive expanded
live coverage of major golf and tennis events such as
the AT&T Byron Nelson and FrenchOpen.Plus,
customers can watch up to 6 screens on one channel
(701) 1, check the latest scores and leaderboards,
access player bios,and more!Coverage starts at
channel 701.
AT&T Byron Nelson Exper ience – Golf Roland-Gar rosExper ience – Tennis
May 18 – 21 – Event Dates May 28 – Jun 4 – Event Dates
Sully Premieres on HBO
The story of Chesley Sullenberger,an American pilot who
became a hero after landing his damaged plane on the
Hudson River in order to save the flight 's passengers and
crew.Premieres on HBOMay 6t h.
When t he Bough BreaksPremieres on STARZ
Asurrogatemom for a couple becomes dangerously
obsessed with the soon-to-be father. PremieresMay 20t h
Twin PeaksSeason Premieres on SHOWTIME
TheReturn Ser iesPremiere:Sunday,May 21st f rom
9:00pm-11:00pm.The newSHOWTIME® limited event
series TWINPEAKSpicks up twenty-five years after the
inhabitants of a quaint northwestern town were stunned
when their homecoming queen LauraPalmer was
shockinglymurdered.Considered one of themost
influent ial television series of all t ime, the newTWIN
PEAKSstarsGoldenGlobe® winner and Emmy® nominee
KyleMacLachlan as FBISpecial Agent DaleCooper.